Flotation machine, also called flotation cell, is the equipment to complete the flotation process. It is widely used for the rough, fine and reverse flotation operations of copper ore, lead ore, zinc ore, nickel, molybdenum and other non-ferrous metal, ferrous metal and nonmetal minerals. The types of flotation machine mainly include mechanical agitation flotation machine and froth agitation flotation machine.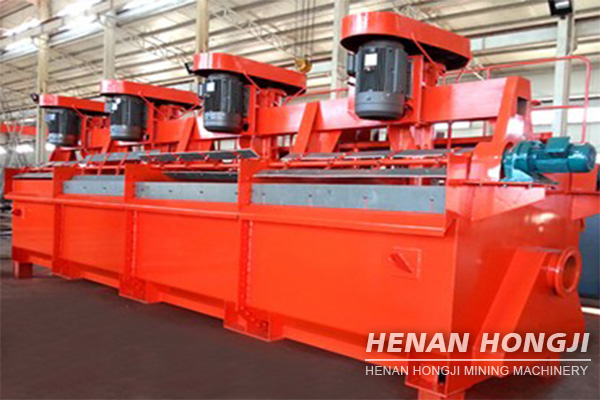 Features

:
The flotation cell has high separation efficiency, which greatly expands the scope of mineral resources and increases the recycling rates. It has relatively stable and large inspiratory capacity with good circulation performance, low power consumption, low pharmaceutical consumption, simple structure and convenient adjustment. It is equipped with advanced control system, which can realize automation control. The groove has the suction of air and slurry as well as the flotation loop. Without using foam pump, the horizontal configuration is easy for process changes. Flotation machine is widely used as the copper separation equipment, gold separation equipment, limonite ore dressing equipment, lead-zinc ore washing equipment, etc
Working Principle:
SF Flotation Machine is applicable for the separation of nonferrous metal and ferrous metals, such as fluorite and talc. The impeller is driven by V-belts, which can bring the centrifugal effect to form negative pressure. While extracting sufficient air to mix with ore pulp, the machine stirs ore pulp and mixes it with chemicals to form mineralized froth. By adjusting the height of the flash board to control the liquid level, the useful froth can be scraped from the loam board. The height of the strobe must be adjusted carefully to keep the stabilization of liquid level and scrape the mineralized froth to the launder. The impellers and stators should be kept at a distance and should be changed when worn. The bearing in the pump should be maintained every three months.
Characteristics

:
The flotation machine is mainly composed of slurry tank, agitator, aeration device, discharge mineralization bubble device and electric motor. The impeller has low peripheral speed and a long life of the impeller cover. The slurry is subjected to the upper and lower double cycles in a fixed manner, which is beneficial to the suspension of coarse minerals. Flotation machine adapts mechanical agitation, simple operation, convenient adjustment, and long service life of wearing parts. Without any auxiliary equipment, the flotation machine is highly configured by itself, and it has functions of suction and flotation.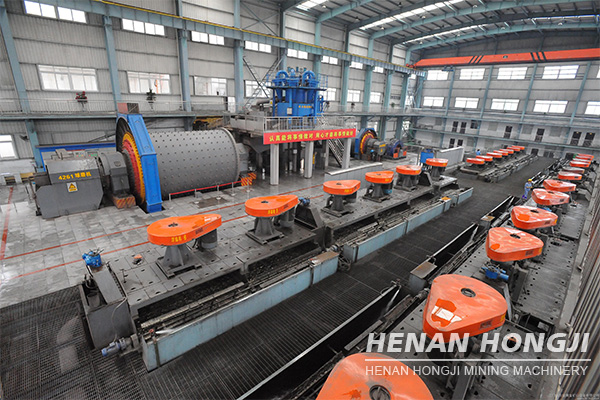 Our Hongji Machinery has various types of flotation machines for sale, our flotation machine has advanced structure, reliable performance and favorable price. If you want to know more details about flotation machine, please contact us!